Green Skill Development Programme (GSDP)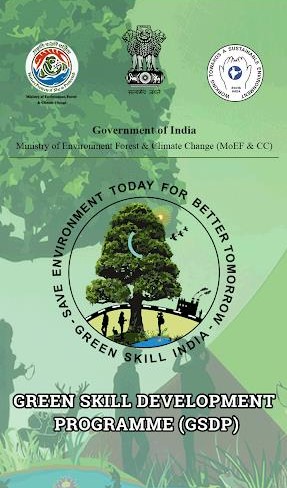 The Ministry has taken up an initiative to fill up the skill gaps by imparting training to skill the youth in environment, forest and wildlife sectors and enabling them to be gainfully employed or self-employed. The pilot of GSDP was launched in June, 2017 at 10 locations, spread over 9 bio-geographic regions of the country. The Pilot offered a Basic Course and an Advanced Course of 3 months' duration each, to skill the youth as Biodiversity Conservationists and Para-taxonomists, respectively. 94 Trainees successfully completed the Basic Course qualifying as skilled Biodiversity Conservationists and the Advanced Course was completed by 154 candidates.
The programme was expanded to an all India level in 2018-19 with 43 Courses covering diverse fields- pollution monitoring (air/water/soil), emission inventory, Sewage Treatment Plant (STP)/Effluent Treatment Plant (ETP)/Common Effluent Treatment Plant (CETP) operation, waste management, environmental impact assessment, forest management, water budgeting & auditing, conservation of river dolphins, wildlife management, para taxonomy including Peoples Bio-diversity Register (PBR), mangroves conservation, bamboo management & livelihood generation, etc. On completion of each course, the Ministry issues certificates to the successful candidates. Overall, 135 training programmes were conducted at 87 locations throughout the country and 2315 youth have been successfully trained under various courses during 2018-19. In FY 2019-20, around 100 training programmes are being conducted at different locations across the country. The programme endeavours to develop a green skilled workforce, having technical knowledge and commitment to sustainable development, which will help in the attainment of the Intended Nationally Determined Contributions (INDCs), Sustainable Development Goals (SDGs) and National Biodiversity Targets (NBTs).
ENVIS Hub Haryana is going to conduct GSDP course on 'ETP/STP/CETP Operation and Maintenance' in collaboration with Swaran Jayanti Environment Training Institute, Gurugram. Applications are invited for Science Graduate, age 18 & above till 06.10.2021.
FEATURES OF THE COURSE:-
Free of cost for shortlisted candidates.
The course under the GSDP are certified as per National Skill Development Agency, Ministry of Skill Development & Entrepreneurship, Government of India.
Beneficiary:
College Students
Benefits:
The programme endeavours to develop a green skilled workforce, having technical knowledge and commitment to sustainable development, which will help in the attainment of the Intended Nationally Determined Contributions (INDCs), Sustainable Development Goals (SDGs) and National Biodiversity Targets (NBTs)